300SL Roadster            198.980            1957-1962
300SL Gullwing            198.980            1954-1957
300Sc                            199.980            1955-1958
300SE                           189.985             1962-1967      
300SE                           189.987             1962-1967
300d                             189.980             1958-1962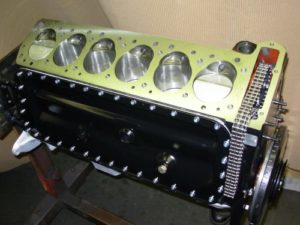 LONGBLOCK: $18,500.00 (Labor only to include machine work + prep and assembly only)
*300SE type 189 add $5,400 due to requirement of sleeves and sleeve installation*
*Note: Jobber discounted price only available to licensed automotive resellers
Due to the rarity and high cost of some of the new internal engine parts we offer a service of labor that includes machining and assembly leaving the parts requirement open and supplied as necessary. Upon inspection of your assembly we would then give a list of parts required for the project. If preferred we can acquire the parts and bill you on an as needed basis at wholesale cost or you can source the parts on your own. Generally the parts cost for the shortblock assembly alone are approximately $10,500 retail. New parts for the head and valve train assembly can range from $9,500 to $19,500. Special repairs may incur additional charges (ex. crack repair, extensive welding of cylinder head).
FOB: LOS ANGELES, CA
MACHINED TO EXACT FACTORY SPECS:
BLOCK:
  BORE & HONE CYLINDERS

 

SURFACE BLOCK DECK

 

ALIGN HONE IF NECESSARY

 

CONNECTING RODS REBUILT
  

BALANCE CRANKSHAFT ASSEMBLY
CYLINDER HEAD:
INSTALL NEW VALVE GUIDES / HONE TO SPEC
THOROUGH INSPECTION CLEANING AND DETAILING:
FINISH PAINT BLOCK AND OIL PAN TO FACTORY COLORS
PLATED HARDWARE WHERE APPLICABLE
TAP AND REPAIR ALL THREADS
METICULOUS ASSEMBLY
LONGBLOCK ASSEMBLIES DO NOT INCLUDE: MANIFOLDS, FUEL INJECTION, WATER PUMP, ENGINE MANAGEMENT, ELECTRICALS, STARTER, A/C, P/S, CLUTCH ASSEMBLY OR ANY OTHER COMPONENTS NOT DIRECTLY CONTAINED WITHIN THE ENGINE.
Warranty: No warranty implied or otherwise due to the numerous factors unique to the M198/199/189 engines such as the temperamental and antiquated engine management as well as the availability of new parts with proper fit and function (some of the new parts from Mercedes are not to proper specifications). Plus the limited access to core components that are often compromised in ways that can make the repair irregular or extensive. In essence, we often have to adapt or improvise beyond normal procedures to what may be available. Therefore, due to the dynamics of all this and the issue of just how time consuming these engines are, we cannot imply a warranty.