E55 AMG              113.980            1999-2002
CL55 AMG            113.986            2002-2003
S55 AMG              113.986            2001-2003
ML55 AMG            113.965           2000-2003
C43 AMG              113.944            1998-2000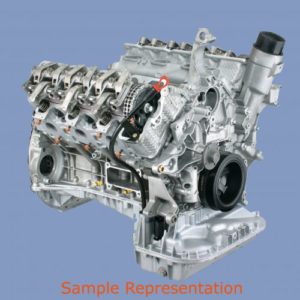 LONGBLOCK: $18,900.00 EXCHANGE (Retail $20,950.00) *Note: Jobber discounted price only available to licensed automotive resellers 
Additionally a core deposit may be required of: $4,000.00
Return core subject to inspection – if not viable core charge could apply of $800 for cylinder head / $1800 for the block / $600 for crankshaft / $400 for rod/ $200 for oil pan
Note: Cores must be returned complete as supplied. Like for like.
FOB: LOS ANGELES, CA
Note: If preferred to maintain originality – for this application we often rebuild the original engine.
Costs for the rebuilding process is the same whether it's exchange or rebuilding your own, as every engine gets the full complete treatment so when they leave our facility they are
all back to stock factory specifications with all those new parts as listed.
Process takes one week here at our facility plus the travel time each way. We organize the logistics of transportation.
NOTE: WARRANTY FOR AMG LONGBLOCK APPLICATIONS IS TWO YEARS OR 24K MILES. THIS IS DUE TO THE ANTIQUATED ENGINE MANAGEMENT INFLICTING HARM UPON THE MORE SENSITIVE ASPECTS OF THESE HIGH PERFORMANCE ENGINE TYPES.
Every remanufactured engine we supply includes the following:
NEW PARTS:
REPLACE AS NEEDED OR NEW:
TIMING GEARS, FLYWHEEL RING GEAR, MISC. STUDS & HDWR…
MACHINED TO EXACT FACTORY SPECS:
BLOCK:
  BORE & HONE CYLINDERS

 

SURFACE BLOCK DECK

 

ALIGN HONE IF NECESSARY

 

CONNECTING RODS REBUILT
  

BALANCE CRANKSHAFT ASSEMBLY
CYLINDER HEAD:
INSTALL NEW VALVE GUIDES / HONE TO SPEC
THOROUGH INSPECTION CLEANING AND DETAILING:
FINISH PAINT BLOCK AND OIL PAN TO FACTORY COLORS
PLATED HARDWARE WERE APPLICABLE
TAP AND REPAIR ALL THREADS
METICULOUS ASSEMBLY
LONGBLOCK ASSEMBLIES DO NOT INCLUDE: MANIFOLDS, FUEL INJECTION, WATER PUMP, ENGINE MANAGEMENT, ELECTRICALS, STARTER, A/C, P/S, CLUTCH ASSEMBLY OR ANY OTHER COMPONENTS NOT DIRECTLY CONTAINED WITHIN THE ENGINE.